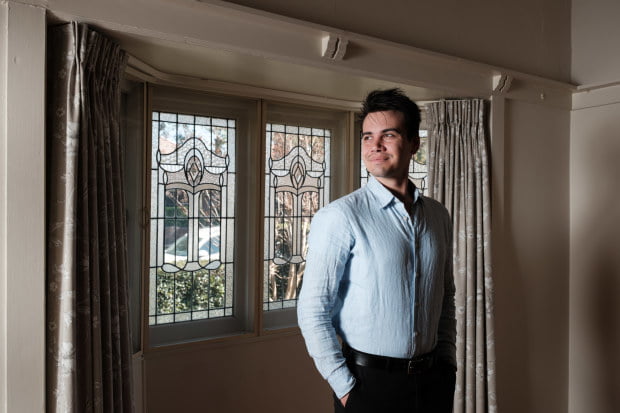 One police officer's journey from despair to a dream home, thanks to HOPE Housing. Discover how HOPE is helping essential workers achieve homeownership and keep doing the job they love.
Meet Ben, a dedicated police officer with 13 years of service under his belt. Despite his years of hard work and dedication, he found himself residing in Penrith, in Sydney's western suburbs, under his mother's roof.
With $300,000 diligently saved up, Ben embarked on a quest to find a home closer  to his workplace in the bustling inner west of Sydney.
"Looking at houses in Sydney really did feel hopeless," Ben says. "Even though I was a textbook saver, buying a family home in Sydney was looking impossible. It was a choice between a shoebox apartment or major commutes every day."
Faced with the crushing reality of not being able to afford a decent home for his future family, Ben contemplated the daunting idea of relocating further away from his job. That's when his girlfriend introduced him to HOPE Housing, a nonprofit organisation dedicated to helping essential workers acquire homes near their workplaces, eliminating the stress of lengthy commutes and inadequate living conditions.
With the support to HOPE, Ben achieved his dream of purchasing a three-bedroom home in the heart of Petersham. His financial worries have been alleviated and he can now envision his future together with his partner and a growing family. As he proudly states, "My partner has moved in and it's somewhere we can really see our future. It takes the financial stress out of planning for a family."
HOPE Housing operates on a shared equity model, uniting socially conscious investors with essential workers such as teachers and emergency services personel who struggle to find suitable homes. Under this model, investors contribute up to half of the home's cost, while the worker covers the rest with their deposit and home loan. Workers own the home without paying rent, and if they decide to sell, HOPE investors share in the capital gain. HOPE aims for a 10% annual return to investors after fees and expenses, pre-tax.
One of the standout features of HOPE Housing is the freedom it affords essential worker in choosing homes tailored to their unique needs. Workers receive guidance from HOPE to ensure their selected property is a sound investment, and they have the opportunity to place offers or bid up to a preset maximum determined by HOPE's valuation process.
Our cites owe their functioning to essential workers—the unsung heroes who tirelessly safeguard our health, educate our children, and maintain our safety. HOPE Housing extends its support to teachers, police officers, nurses and firefighters in their quest to find homes close to their workplaces. As Ben eloquently puts it, "HOPE Housing is making it possible for essential workers like me to actually live in the communities we serve. Keeping first responders, nurses and teachers in the area has knock on benefits for everyone. And for me, it was a dream come true."
Photograph: Oscar Colman, The Australian Financial Review