With HOPE as a co-investor, essential workers can now afford to own a home close to work.

Buy Closer
Your job is vital, so it's important that you live close to work. Now you can. Say goodbye to those long commutes.

Buy Sooner
With our backing, you only need a loan for part of the home. So seriously start looking for the right place, right now.

Buy Together
You can now buy the home you want, where you want. Together, we share the investment and the profits.
Love where you live as much as your job
The cost of housing keeps increasing, and so does your commute. As an essential worker, you're continually pushed further away from your work, from your family, and the communities who rely on you.
HOPE is here, putting home ownership within reach for everyday heroes.
As your co-investor, we split the investment and slash the cost of funding the loan for you. You're on the title, the house is yours. There's no fees or on-going payments to us, we only make our money back when you want to buy us out or sell the property.
What's the catch?
There isn't one. We're a not-for-profit organisation that just wants to see essential workers do well. We see property as a good investment, and you as an even better one. 
Our communities need you…
…and you need a home close to work
The 5 Steps from HOPE to HOME

01
Check with our banking partner to see if you prequalify

02
Submit your details to HOPE for approval

03
Start looking in your new maximum price range

04
Put in an offer and get a thumbs up from us

05
Some final paperwork and congrats, you're a home owner!
Own sweet home
We are about to launch our pilot program with selected bank lenders. If you're an essential worker keen on finally owning a home close to your work, stay in touch to find out when the program becomes available. You can get updates on LinkedIn, just Follow Us. We will also be posting updates here as we get closer to launch.
Frequently asked questions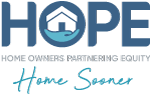 HOPE Housing Fund Management Limited
ABN 24 629 589 939
233 Castlereagh Street, Sydney NSW 2000